Moo selfies
About Me
Living near Wareham surrounded by the stunning scenery of the Purbeck Isles in Dorset, I have no end of inspiration. My arts and crafts are my passion and something I work on full time. I studied a Diploma in Fine Art at the Bournemouth Arts Institute and I went on to do my BA Degree in Fine Art at the University of Chichester, graduating in 2007. I have been working as an artist alongside other jobs until taking the leap to become a full-time artist in 2014.

I show my products at various shows around the county and I am always adding new items and designs to the range. I opened my Art Studio in Swanage in 2017 and joined other Swanage Based Artists in Commercial Road. The Moo range has defined me as a "Cow Artist" and clients often refer to me as the farm artist and so Lucy's Farm was born. My Moo Selfie is my most popular Cow Art, bringing the characters out of the cows we see around the farm but I also paint various other animals including alpacas, sheep, and even camels. I also just love dogs, Ned is my Sprocker Spaniel who I adopted from Margaret Green Animal Rescue, so when I'm not painting I'm usually walking around the Purbeck Hills with Ned. You can view my Dog portraits on my specialised Pet Portrait website



Please drop me a line, like my facebook page or tweet me, I would love to know what you think about my art.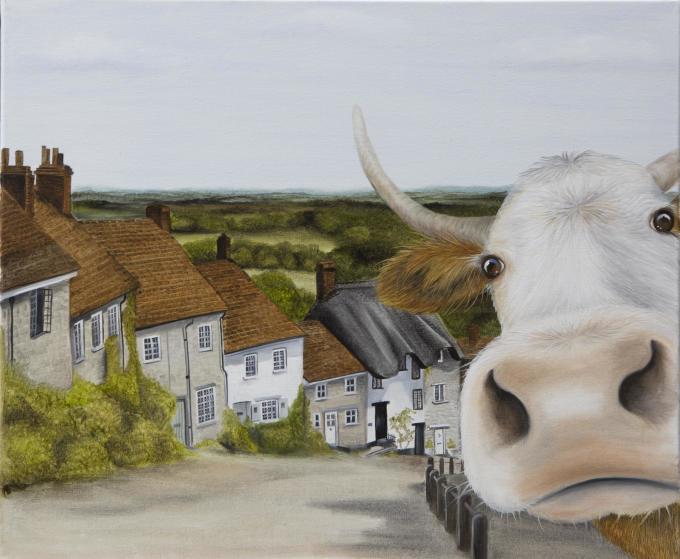 FINE ART

After studying a Diploma in Fine Art at the Bournemouth Arts Institute I went on to do my BA Degree at the University of Chichester.
In 2009 I was highly commended at the National Open Art Competition for my painting the 'Abandoned Chair' from the 'Rubbish' series. My work has been exhibited in the Minerva theatre and Pallant House in Chichester and also in Mayfair, London.
My work ranges from animal portraits to landscapes, much of which is inspired by the wonderful local scenery of Dorset. I am currently available for private commissions and most of my recent paintings have been of pets, wildlife, houses and landscapes; you can see my recent work on the galleries page.
PET PORTRAITS
Pet portraits are probably the most enjoyable part of my art. Living on a farm and growing up with an assortment of animals, I try to capture their unique personalities and display that in vibrant oil paints. I work from high-quality photographs which I prefer to take myself or can be sent to me.
I have painted a wide range of animals and pets, including dogs, cats, horses, chickens, alpacas and even camels. A portrait of a pet makes a beautiful gift or complements a wall in any room.
Please have a look through my website for samples of my work. All portraits are in oils and can take approximately six to eight weeks to complete, if you need one for a specific date or special occasion please let me know.