To celebrate International Women's Day (Monday 8th March) we thought we would introduce you to the ladies behind Lucy's Farm.
Firstly...
The creator of Lucy's Farm, Lucy Tidbury.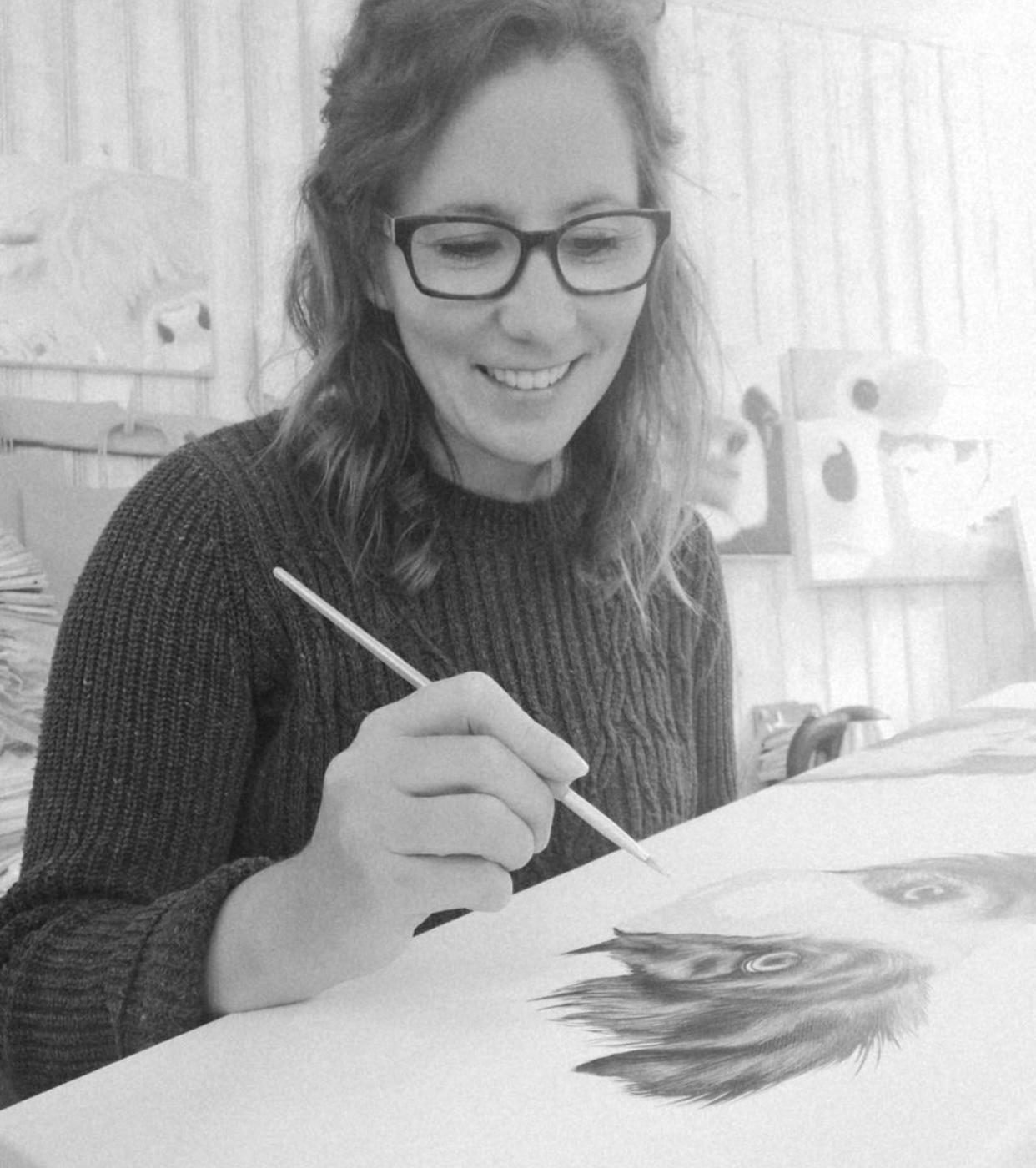 Lucy studied a Diploma in Fine Art at the Bournemouth Arts Institute and went on to do her BA Degree in Fine Art at the University of Chichester, becoming a full-time artist in 2014. She is a regular fixture at all of the shows around the county, Lucy is always adding new items and designs to the range. Her Art Studio in Swanage opened in 2017 and she joined other Swanage Based Artists in Commercial Road, the arty/independent sector of Swanage. Her range of Moo Selfies are her most popular Cow Art, bringing the characters out of the cows we see around the farm & the Isle of Purbeck. She does paint a huge array of other animals including alpacas, sheep, and even camels. She is also a huge dog fan; Ned is her Sprocker Spaniel who she adopted from Margaret Green Animal Rescue, so when she's not painting she's usually walking around the Purbeck Hills with Ned. She is brilliantly chaotic & a very vibrant sole, with an amazingly creative entrepenurial streak and an all round fantastic boss lady.
The ladies in the shop
Julie & Jenny! These ladies keep the shop running smoothly, they give fantastic customer service and always make the customers smile. They help pack up the online orders & always leave the shop looking immaculate. We have customers who just pop in for a chat, because they're just so lovely!
Jack of all trades
Angie does a few days in the shop but she's a help everywhere! She helps at the shows when we're double booked, in the shop and in the production process of the stone kitchenware; she also has a dog called Sox who loves a good walk with Ned.
Right hand woman
Georgina helps with Lucy's marketing & has the task of turning Lucy's brain dumps and the wonderings of her creative mind into a reality; Plus deciphering her generally chaotic and forgetful entrepenurial mind.
On the sidelines...
Lucy's Mum & sisters! They don't work with Lucy, although she wishes they did! But they're her biggest fans, constant sounding boards, inspiration, motivation, encouragement and they know how to deal with a Tidbury tantrum like no one else!
Plus we all love enjoying a good G&T or breakfast whilst chatting about new ideas, new products & the future of Lucy's Farm. We are super proud of our all female team, we work hard & we have fun!