The questions I get asked the most is 'Why Cows?' and 'What gave you the idea?' so after spending last weekend in Pembrokeshire visiting my parents, reminiscing, I thought I would share the story!
After I graduated Uni and had a few rubbish jobs to make some money I decided to spend a year away traveling, the best year of my life! But, unsurprisingly, I came back with no money, so ..... after a phone call to my Mum (she had to pay for my flight home, sorry Mum!!) I decided to live in Pembrokeshire with my parents for a few months until I found a job (again, Sorry Mum!)
As some of you already know my mum is a very creative person and makes the amazing sheep cosies and cushions which you'll now see in my shop, while I was living there I went to a few craft fairs with them and took some of my paintings. At the time I was painting a lot of Landscapes, particularly seascapes. But one afternoon at home I decided to go for a walk and noticed the rather curious cows that lived in the field behind us, my Mums next craft fair was an Agricultural show in St Clears so I thought, I know, I'll paint these cows!
After a couple of stroppy moments I eventually managed to paint something that resembled a cow and after a bit of practice, I had created my first curious Moo painting. So I took it along to the Agricultural show and it sold before we even opened! So I thought.... I'm on to something here! I continued with the inspiration from our local resident moo's and before I knew it I had a whole herd of paintings ready to take to various fairs.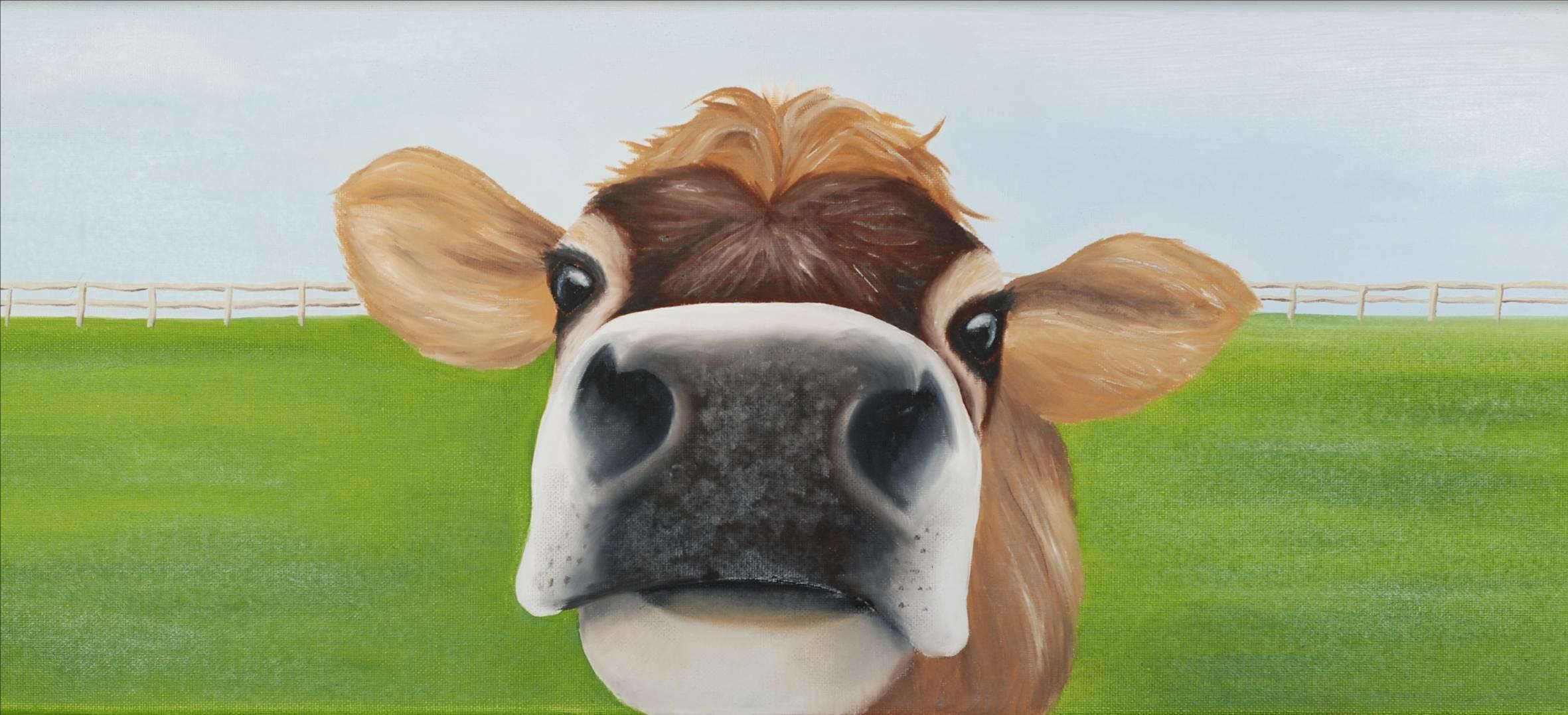 'One of the First!'
So a few months went by and I decided it was time to head back to Dorset, get a job and continue painting. I managed to get a job at a local Insurance company (sounds boring I know) but I did actually enjoy it and made some great friends, I carried on with the painting alongside working and it was a few years later that I decided it was time to really go for it. By this time I now lived on a farm in the heart of Purbeck so there was plenty of inspiration around. I got involved with PAW (Purbeck Art Weeks) but wanted to somehow make my moo paintings relevant to the area for the upcoming PAW exhibition, this is when I decided to combine the landscape painting with the moos. I wanted something Iconic to Dorset so my first two 'Moo Selfie' paintings were Old Harry and Durdle Door, they were such a hit at the exhibition and so the Moo Selfie series had begun. So I quit my job and three years later here I am!
So.... hopefully that answers the questions! Something so small has led to a whole business built around cows and I'm not sure I could even tell you how many I have now painted. I'm so lucky to live in such a beautiful part of the world which has provided endless inspiration for my work.